Friday, February 24, 2006
Laura Cheadle NEEDS YOUR VOTE!
I NEED YOUR VOTE!!!
Friday, February 24, 2006
Hey everyone, My band, The Laura Cheadle Band, has a chance to perform at the prominent HOUSE OF BLUES, Atlantic City for BATTLE OF THE BANDS. We need YOUR HELP to vote us in! It would mean a lot to me if you gave us your support! VOTE EVERYDAY from MARCH 6TH through March 20th. It's easy! Just go to: http://www.pressofatlanticcity.com/bob/ Click on Laura Cheadle Band AND VOTE! Feel free to do this as many times as you'd like. You can vote everyday on a computer! You may also vote on many different computers! Tell your friends, family members, etc! We really need your help! This could lead to many opportunites! It's up to YOU to vote the Laura Cheadle Band in Battle of the Bands, Atlantic City @ House of Blues! Thanks a lot everyone

Friday, February 10, 2006
BUY OUR NEW CD ONLINE NOW!
HEY EVERYONE!
Our long awaited CD, Falling In is NOW available for purchase ONLINE!
http://cdbaby.com/cd/lauracheadle
You can listen to clips of the entire album andpurchase it!
Hope you enjoy it! I know I had a great time making it!
Tuesday, February 07, 2006
Recap of our CD RELEASE on 2/5!
Wow...
This past Sunday couldn't have been more amazing. World Cafe Live was definitely a great choice to have our CD Release.
We started the show off with some jazz by my dad and the band.
I then came up and did an acoustic set, which many of you love and are used to from my first acoustic cd.
After that, we got groovin with the band! I was really really feeling the crowd and loving every minute of it. I feel like this was honestly our best performance EVER.
The band was my daddy on the keys, my brother on electric guitar, diggin dave on bass, justin on congas, and bill on the drums.
We're tighter than ever and so happy the CD is released.
Those of you who couldn't make it, the CD will be available ONLINE within the next two days. You'll be able to purchase it through myspace as well as
www.LauraCheadle.com
Can't wait that long? Send an email to:
LauraCheadleBooking@yahoo.com
with your name, address and indicate that you want a CD.
I think the CD turned out phenomenal (LOVE that word) I added some tracks on to this site from the CD.
Thanks for all the support everyone and pick up a copy of Falling In Today!
Stay funky,
Laura
Thursday, February 02, 2006
Don't miss our CD RELEASE This Sunday the 5th!
Well, wow, here it is...
This is all our hard work paid off. It's crazy that it's done. I really hope you can all make this event. The CD absolutely sounds incredible. For those of you who have my acoustic cd, there's many of the same songs but way fuller and grown up. Back then, I was all raw emotion. Now, I'm more mature musically but filled with emotion.
Come pick up a copy of this...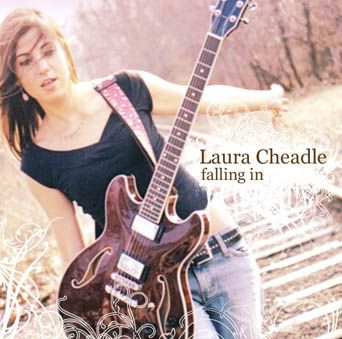 This event is going to be a 3 hour show full of surprises, new songs, an acoustic/full band set. The CD has a variety of songs on it that I hope you love.
I would LOVE TO SEE YOU THERE.
Any fan of mine can not miss this amazing time.
For those of you who live too far away, the CD will be available online shortly.
Laura Cheadle
When:Sunday Feb 05, 2006at 6:00 PM
Where:World Cafe Live3025 Walnut St.Philadelphia, PA 19104US
For directions, visit:
http://www.worldcafelive.com/directioninfo.html
See you there!