Wednesday, January 18, 2006
Thanks for the support!
Wow, I'd just like to thank everyone who have been coming out and supporting us! This past weekend was great! Fridays show was a blast and the audience really made it!
Sunday night was one of the best performances we ever gave. I was jumpin' around on stage truly feeling everyone. So thanks!
I
I'm more than siked for the CD release! The CD sounds great and has many surprises on it! We have several other shows coming up promoting it, so please make it out! I promise I'll show a good time! Come pick up some tshirts, buttons and flyers :)
Well, I hope to see ya all at the shows coming up! We have some in NJ, NYC and DE!
Come catch one and funk out.
It's almost time for World Cafe CD release! woo! Remember last time we were there?
Here's a reminder....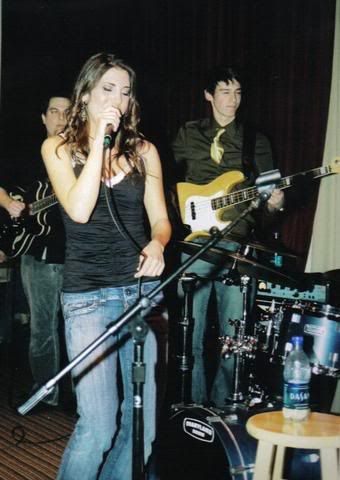 stay funky!
Thursday, January 05, 2006
The florida sun made me fun.
Oh, the Florida sun.I just returned from Florida after doing a few shows thurr.So pretty. I randomly walked in a few places with just me and the geetar. So many people responded and were awesome. Maybe they're just so damn happy because of the weather. It was between 75 and 80 there and I danced with delight.I was so excited to see a SONIC drive thru place. They tease us here in Jersey with their tantalizing commercials. I was there in the flesh slurping up a morning sunshine smoothie. Maybe I made that name up but it reminded me of the sunshine after the rain. Wow, 98 degrees.Even after my blog, people still thought it was my birthday and left me messages. I bet you're all going to forget about little ole me on February 20th, my ACTUAL birthday. I'm turning 20, so not fun.BUT ya know what? My band will be touring Tokyo, Japan in august of 2006. all the tofu i can eaat!Yeah, def. ate at pf changs last night in jacksonville and got so sick. I'm not down with the spice. Come see my ice, it's so nice. Watch out for the mice. Stop me.So yeah, many shows coming up. Come see one and we'll dance together and have one of those sparkling in the teeth movie moments.Also, our CD release party is on feburary 5th in Philadelphia!!!!It's at the World Cafe Live, AWESOME place.The new cd sounds sahweet. I was just listening to it on the plane ride. It will be available online soon.Crazy story real quick.I was in florida and NO LIE, i saw this chick wearing a LAURA CHEADLE t shirt from www.cafepress.com/LauraCheadleSo cool. I told her she was rad.Okay, I talked enough.Back dirty jerz funkin up the place.