Tuesday, January 27, 2009
You're all invited to my CD RELEASE/ BIRTHDAY BASH FEBRUARY 20TH IN PHILLY! :)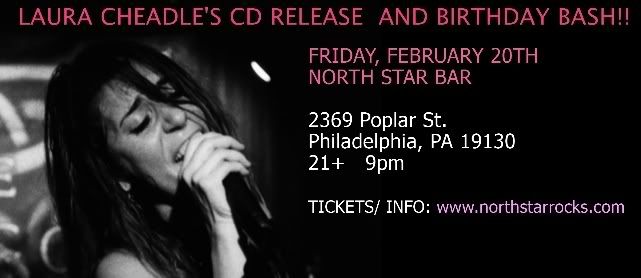 You're all invited to my CD RELEASE/ BIRTHDAY BASH in Philly February 20th!
Hey! I am soo excited to celebrate my BIRTHDAY and RELEASE my BRAND NEW CD, 'LIVE ON' on my actual birthday Friday, February 20th. You are all invited! Click the event link below and RSVP so I can look out for you. This is going to be a great night of music, food and drinks and I would LOVE to spend it with all of you! It would mean the world to me :)
Hosted By:
Laura Cheadle
When:
Friday, February 20, 2009
Where:
North Star Bar
2369 Poplar St.
Philadelphia
19130
Description:
Come help me celebrate my birthday AND Release my brand new album called "Live On" !! This is going to be a very exciting night with great music, food and drinks! 9PM!