Friday, February 21, 2014
Laura Cheadle's New Blues Album "Bruised & Soothed" now available HERE!
Tuesday, December 27, 2011
My Own Jewelry Collection with Ice.com!
http://www.blogger.com/img/blank.gif
I'm VERY excited to announce a partnership with Ice, (
Ice.com)
my favorite jewelry company and one of the leading jewelers in the country! (also voted as Best of Web 2012- , Top 100 Company by Internet Retailer). My partnership includes a special collection of jewelry curated by me that is NOW available at
http://www.ice.com/stylists/laura-cheadle.jsp?sourcecode=FBLCC
Coming in January, Ice videos will include my music! My Blog which highlights my favorite pieces and why I chose them for my collection is Featured on the homepage of ice.com & seen here:
http://blog.ice.com/ice-hq/laura-cheadles-boho-chic-jewelry/
Check out my blog & my collection!
Friday, December 23, 2011
Larry Battsons Wild World Welcomes Laura Cheadle 12/22 by Wild World | Blog Talk Radio CHRISTMAS SHOW
Tuesday, November 29, 2011
Order my CHRISTMAS ALBUM HERE!
My CHRISTMAS ALBUM is NOW AVAILABLE! This Album includes Holiday Classics and two original songs!
Listen to my version of "Santa Baby" HERE!
ORDER THE ALBUM BELOW!
Wednesday, October 12, 2011
Ticket Link for me opening for Average White Band 10/22 @ Sellersville, PA Theater!
Thursday, September 08, 2011
Order my NEW LIVE ALBUM HERE!
I am so excited to announce the release of my BRAND NEW LIVE ALBUM "Laura Cheadle: Living On" This Album features songs from all of my albums as well as a collection of recent performances of me and my family band in the Philadelphia, PA area! This CD has fun audience interactions, crazy antics with my family band on stage + much more! My mom is even the unofficial star of this Album as you will hear :) Many of you may even hear yourselves on the Album!!
*LISTEN TO 2 SONGS off this LIVE ALBUM
HERE
&
HERE
To ORDER, just click the BUY NOW BUTTON under the Album Cover! Thanks so much for your support! I live to perform for you!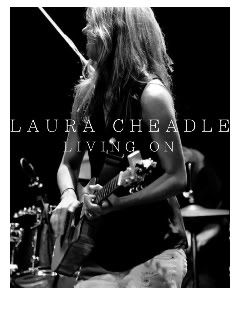 Another Track from Upcoming Live Album out 9/9!
Tuesday, August 30, 2011
Track from my Upcoming New LIVE ALBUM!